Oct 8: "Sugar Skulls N Spice" Art Show by Laura Stuart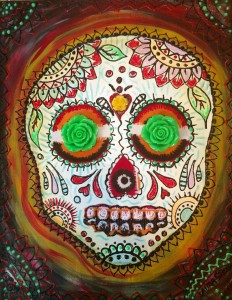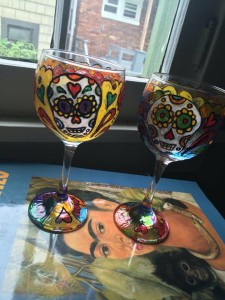 As part of Harmony's fall festival Sleepy Hollow, we are proud to present Pittsburgh artist Laura Stuart and her latest work entitled Sugar Skulls N Spice: A Colorful Exploration of the Human Cranium (With a Dash of Ominous Spice!)
Laura's show will be on display from 11am til close on Saturday, October 8 with the show reception from 3pm-6pm,  live music and refreshments. . If you can't be in Harmony that day, Laura's show will be on display until October 23rd. Stop in and see her fabulous work during Gallery hours.
To encourage creativity and fun, a table will be set up with coloring sheets with crayons and markers for anyone to make their own sugar skull art.
Show Description:
When we think of skulls we often think of death and mortality. Within American culture, the artistic evolution of the skull has often represented scary concepts and rebellious ideas. The skull can be both fascinating and gruesome. However, in recent years, the sugar skull has gained in popularity within American culture as an attractive symbol that in some ways has counteracted the skull's traditionally ghoulish nature.
About Laura Stuart:
Laura Stuart is a mixed media artist originally from Volant, PA. She currently lives in Pittsburgh, where she works as a Team Leader for Blind & Vision Rehabilitation Services. Laura studied Visual Communications at both The Art Institute of Pittsburgh and Westminster College where she received a Bachelor's degree in Visual Arts Communications. She later went to Carlow University for an Art Education certification. Laura has taught art for a number of years within the school setting and within a variety therapeutic environments.