Dec 2: Holiday Show, The Early Mays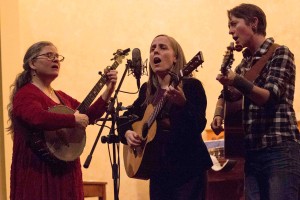 The Early Mays are comprised of Emily Pinkerton, Ellen Gozion and Rachel Eddy. This is the final show of the year and there is no better way to end the season with this wonderful trio of musicians. 
Friday, December 2, 7pm  $15, RSVP in advance to the Gallery. BYOB.
From a previous show by The Early Mays: "WOW… What an evening… To say that I am truly impressed with The Early Mays would be such an understatement … The musical talents of these women leaves me awestruck! They are each gifted with beautiful voices, but when they weave together in harmony, it becomes a tapestry whose beauty left me deeply touched…" Casey Deely of Common Threads. http://www.theearlymays.com/