June 23-July 7: "American Flags Done in Denim" Opening Night/Show by Brenda Gruber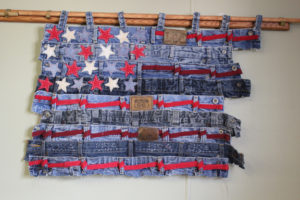 Please join us for a timely holiday opening night/show on Friday, June 23, from 6-8pm.  "American Flags Done in Denim" by Brenda Gruber, 2015 graduate of Slippery Rock University  The show will feature flags made from upcycled denim using dye, bleach, paint and upcycled denim including jeans. Refreshments will be provided. RSVP not required.
We're also collecting food donations for the Southwest Butler Food Cupboard that night. Stop by the Gallery between 5-8pm and drop off your non-perishable food or monetary donations. A percentage of any purchase made that evening will go to the Food Cupboard to help our neighbors. Thank you for thinking of others.
Ms. Gruber's show will be on display from June 23 until July 7.