March 17: St. Patrick's Day Celebration with The Ploughshare Poets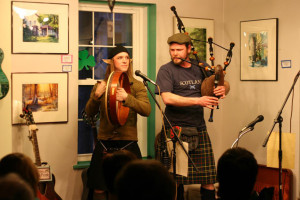 6th Annual Celtic Dinner and Concert

Join us for dinner with the band before our big St. Patty's show!
Where: The Harmony Inn, Upstairs Dining Room – Open Seating
When: Saturday, March 17, 2018, 5-6:30pm; Concert begins at 7pm at The Bottlebrush Gallery.
Cost: $45 per person includes dinner and show; $20 show only. BYOB.

RSVP & Payment Required in Advance – 724.452.0539
Featuring The Harmony Inn's Traditional Irish Menu: Please note this dinner is not BYOB. You are welcome to bring your own beverages to the concert at the Gallery.
About The Ploughshare Poets:
Ryan Stauffer and Vade King are The Ploughshare Poets, a popular duo at the Bottlebrush Gallery known for their boisterous Celtic music, strong harmonies, clever banter, and impromptu parades through the streets of Harmony. Far from being a kitschy pub band, The Poets are masters of the history and cultural importance of Scottish and Irish music. Expert musicians, they play bagpipes, guitar, whistles, drums, and bouzouki. Ryan has played bagpipes for 20 years and makes his own small pipes.
Vade played extensively in England and Scotland and was the lead singer of "Colin's Way" for 10 years.