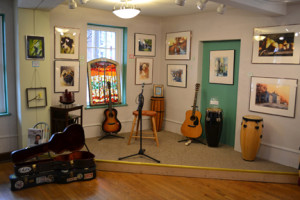 Located in beautiful, historical Harmony, PA, the Bottlebrush Gallery showcases the work of artists living in or originally from a 50 mile radius of town. We are true advocates of BUY LOCAL.
With 85 artists showing in the Gallery, you will find pottery, fine art, organic dog and cat treats, sculpture, glass, quilts and fiber arts, mixed media and collage, iron work, and much more.
Regionally known as a venue for touring national and local musicians, the Bottlebrush also hosts group and private art classes for adults and children/youth, private painting parties, benefits and fundraisers, a women's creative circle and a monthly Open Mic. We are proud to donate performance space for local music school recitals, public school senior art final projects and group shows and activities for Slippery Rock University's art students.
While you're in town, visit our year-round Christmas room. Our vintage vinyl shop "Last Dog Records" on the second floor boasts 3,000+ records of all genres along with musical instruments, books, and collectibles. 10% discount for students and local campers!
Also upstairs, the Gallery is home to several unique shops selling glassware, small antiques and books.
Mission
To build a community of art and music.
History
We love innovative, well-crafted art. That's why the Bottlebrush Gallery & Center for the Arts is right at home in this historic community, whose settlers were known for their skilled craftsmanship and love of traditional arts.
As one of the original homesteads and stores, the Bottlebrush Gallery & Center for the Arts building is a perfect setting for art and music events. The Bottlebrush was established in 2008 by Miranda and Jenny Berner as an Art Gallery and shop. Dennis and MJ McCurdy bought the Gallery in 2011 and expanded it to include a house concert series, a small antiques and collectibles shop on the second floor, along with a vintage vinyl records shop, Last Dog Records. Our record shop inventory is 3,000+ and growing.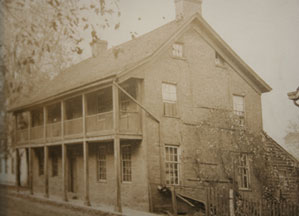 Established in 1804 by the Harmonists from Germany, Harmony was one of eight Utopian communities in the United States. Many of the original buildings and two cemeteries (Harmonist and Mennonite) remain. Visit the Harmony Museum  and take a tour of historic buildings and homes within walking distance in town.
Visitors come from all over to tour this charming, historic town, often making a day of it. The business community is known for its collaboration and celebration of history, arts and music. You'll find antique shops, restaurants, gift shops, and music and dance studios. Harmony hosts several yearly festivals, attracting thousands of visitors.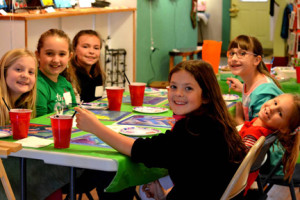 Contact Us
Telephone: 724.452.0539
Email: bottlebrushgallery at yahoo dot com
Address: Bottlebrush Gallery & Center for the Arts 539 Main Street Harmony, Pa. 16037
Facebook – Gallery: https://www.facebook.com/bottlebrushgallery
Facebook – Last Dog Records:  https://www.facebook.com/lastdogrecords/
Hours: Wednesday & Thursday, 11am-4pm; Friday 11am-7pm; Saturday 11am-5pm; Sunday 12pm-4pm.
How to Find Us:
From I-79: take the Zelienople Exit, follow signs for historic Harmony.
From Route 19: when you come to Zelienople, turn EAST at the light for Route 68 towards Evans City.  Make first LEFT into historic Harmony.
Our Gallery is located on the square in Harmony, directly across from the Grace Church.
Parking on the street, in the municipal lots located near the Gallery, and some limited parking behind the Gallery.