Friday June 17th, 6pm
Show runs through July 10th!
"Taking Notice"
By Stacey Hogue of Grove City, PA
"For lack of attention, a thousand forms of loveliness elude us every day."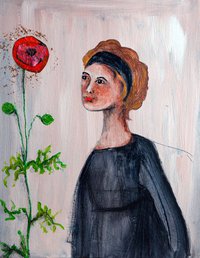 Stacey Hogue is a native of Georgia and now lives in Grove City, Pennsylvania. She works in watercolor, acrylic, assemblage, and collage. The running theme of Stacey's work is redemption in its many guises. She is inspired by beauty and wants to convey what she sees with the inner meaning it portrays to her. For Stacey, the creative process is cathartic. The journey began with an initial desire to express beauty and has become a telling of her own story, what it means, and how her past informs her present. Faith and spirituality play a large part. Her hope is that her art will establish a connection, that it will be strong and instantaneous, that it will cut through to a meaningful place in the heart of the viewer.