Aug 12: House Concert with Tom Mason. There's a Pirate in the house!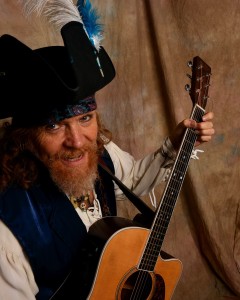 Tom Mason is an amazing musician, song-writer, and actor. Growing up in the Twin Cities Mason found an early love for music and theater. Watching his brothers and grandfather play guitar lit the flame early for Mason. He received a banjo at age seven, but by age eleven he was playing guitar in open tunings with a wine bottle neck. He practiced everyday and decided early in life that he wanted to be a performer.
At this time the acting bug bit Mason and he started taking acting classes. He has continued to act in plays throughout the country. Vaudeville and old Marx Brothers movies made a huge impression on Mason and he has continued to play the crafts and antics of these performers in his own shows and music.
Friday 12th August 2016, 7:00pm
Bottlebrush Gallery & Center for the Arts
539 Main Street "On the Square"
Harmony, PA 16037
$15 Admission
RSVP –Advanced Sales. BYOB
As always, bring snacks to share if you wish.
Reservations? Call (724) 452-0539 or email hith@zoominternet.net
www.facebook.com/harmonyinthehouse